This page is a stub. Help the Open Driving Wiki by expanding it.
A traffic signal (also known as a traffic light) is a device to control flows of traffic at intersections, pedestrian crossings, railroad crossings and more locations. Traffic lights can be found in all games.
Signal types
Edit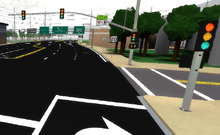 There are several different types of traffic lights. The most common type is the 3-section red-yellow-green light. Some games, including Strasbourg, are using their local traffic lights with their particularities (like the red-yellow-phase).